The holiday season will be here soon. In March, you should already have your sailing week booked. If you hesitate about the choice, you can risk that someone else may book your dream boat before you. There are many boats on the market, many technical terms, and names. Are you confused about how to choose? Read about each category and choose the right boat for you, your family or friends.
For your unforgettable vacation, you can choose one of our motor yacht, sailboat, or catamaran. It is essential to set the right expectations when you go sailing for the first time so that you will not be disappointed. If you have never experienced a boat vacation, it may not be very easy to understand the professional nautical terms. But don't worry about it. We are happy to help you. What types of boats can you choose, and what are the differences between them? There are several different categories, according to the kind of propulsion, size, construction, sailing method, areas, and destinations as well. We will focus on marine cruises (seas and oceans) and the so-called recreational crafts. The following limits define them – length up to 24 meters, maximum of 12 people on board, and engine power higher than 4kW.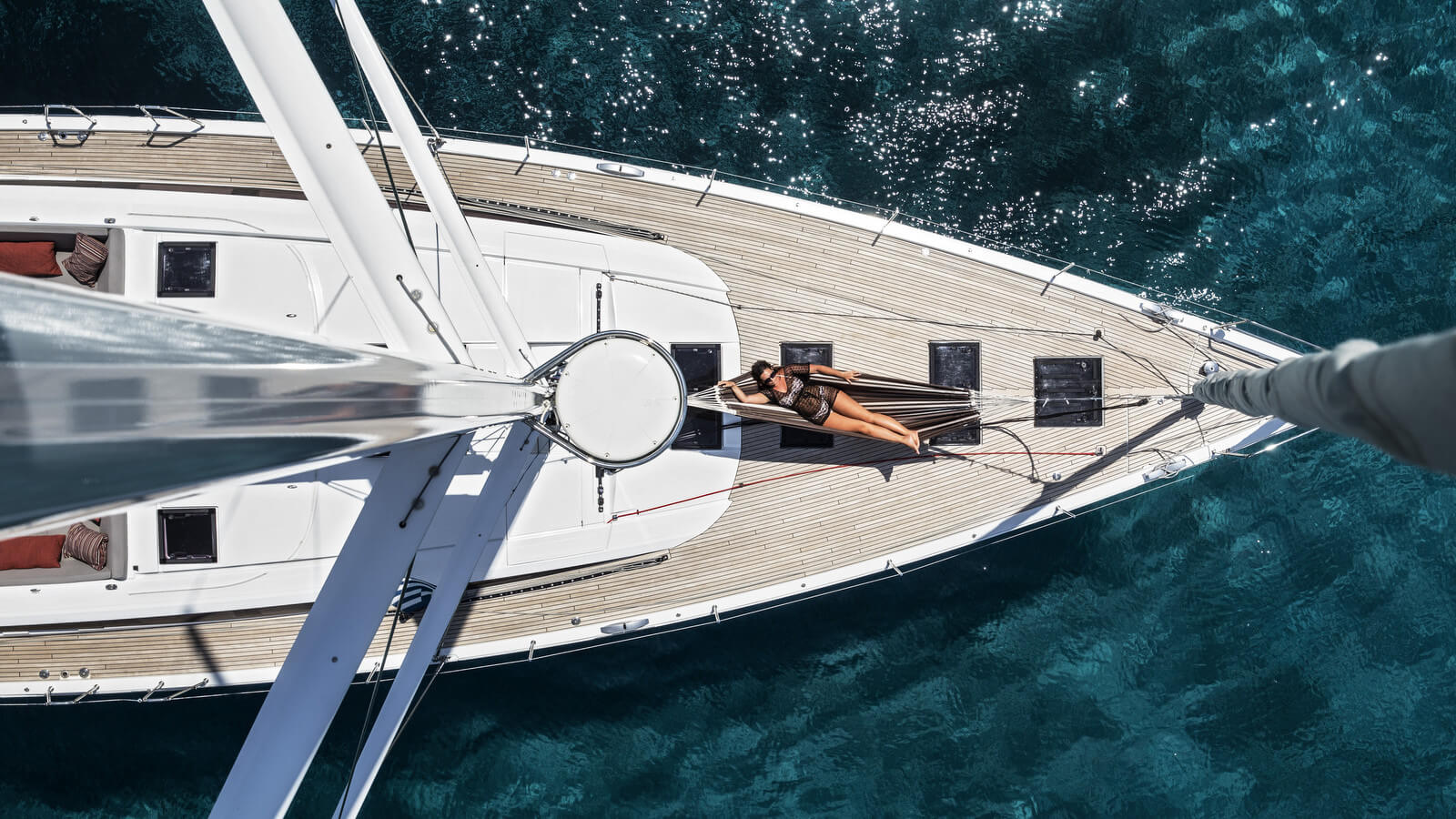 The most commonly used word in connection with sea cruise is a yacht. But what a yacht is, and what do you imagine by this term? The word 'yacht' comes from Netherland and means 'hunting.' Yachts are usually 6 meters high and can be up to 100 meters long. A yacht can be used for sports, but also for recreation, for discovery
but also for adventure 🙂 For us is word Yacht connected with positive emotion, peace and family holiday on the sea in Croatia. And what do the lessons say to the word Yacht?
A yacht is the general term of a vessel. We recognize two basic types:
Sailing yachts, also known as S/Y,
Motor yachts, also known as M/Y.
With or without wind
The sailing yacht is powered primarily by wind and sails. In the port, you can maneuver the sailing yacht only by the engine with sails pulled down. If windy days occur, it can be powered on the sea by the engine. When using the sails, the sailing yacht can cruise safely around 9 knots. When using the engine, it cruises 12 knots. In the case of recreational sailing yachts, the length is 35 to 64 feet (10,5 to 19,5 meters). In general, sailing yachts are significantly more fuel-efficient than other types of boats, as they have one diesel engine. A sailing yacht is about emotions. The sun, water, and wind in the hair make sailing yacht cruise a different experience than a catamaran or motor yacht cruise. Also, they are ideal for romantic cruises. At the same time, sailing yachts are the safest types of vessels, as they have a deep lead pound (1,5 to 3 meters). In the case of a large tilt, it will help sailing yacht to return to a safe position. In terms of vessel construction, the sailing yacht belongs to the category of Monohull (so-called single-deck vessels).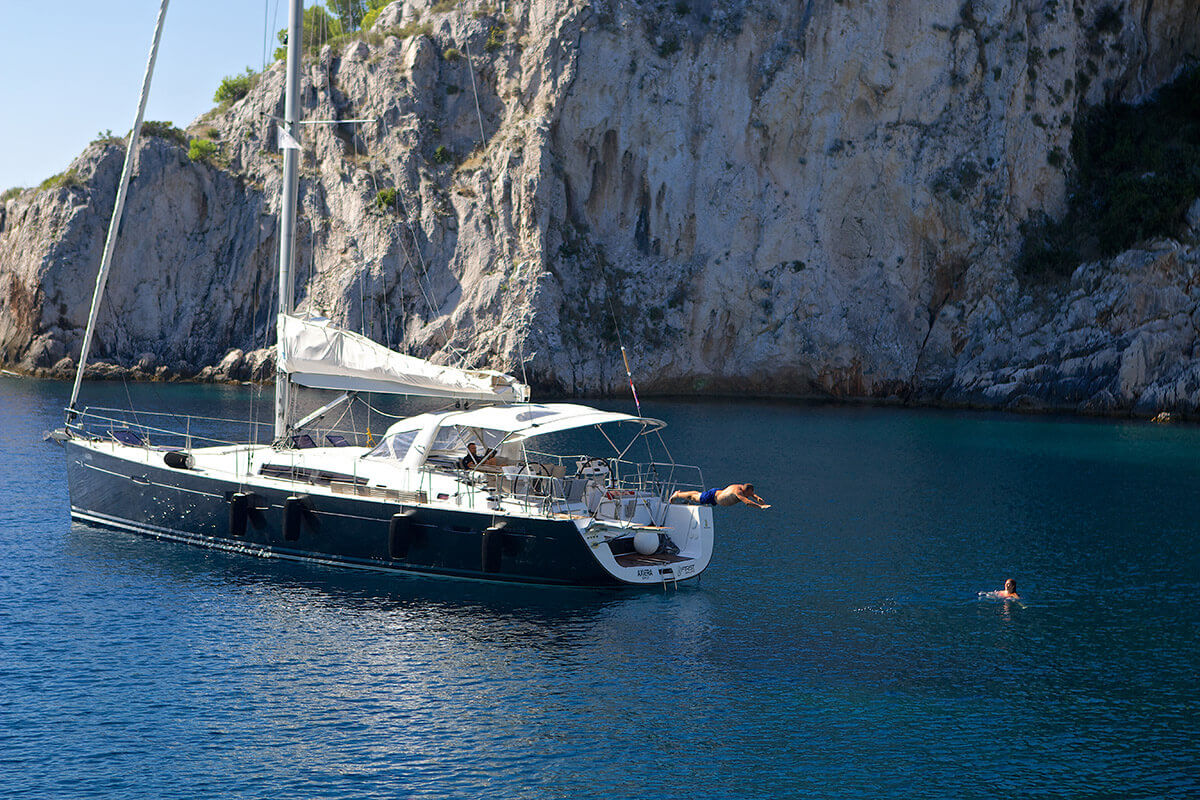 A catamaran is a multihull vessel and is suitable for clients who have never been on a boat since it offers much higher comfort.
There are two basic categories of catamarans:
Sailing catamaran, powered primarily by wind, with sails and two fuel-efficient engines for maneuvering (average speed of catamaran powered by sails is around 12 knots, by the engine up to 15 knots) or
Power catamaran, which has no sail at all, but has two powerful engines that can sail at 30+ knots. It all depends on the power of the engine and the weight of the catamaran. However, this is at the expense of high fuel consumption. 
The advantage of a catamaran is its excellent maneuverability (it can turn in the place thanks to 2 engines) and has three times more space than a sailing yacht of the same length. It is ideal for families with children; it can anchor in the bay a few meters from the shore at a depth of only 2 meters. The basic recreational catamaran's length ranges from 39 to 45 feet (11,9 to 13,7 meters). Luxury catamarans are long of 50 up to 80 feet (15 to 24 meters). In terms of vessel construction, a catamaran belongs to the category of multihull vessels, together with trimaran, which has three connected hulls.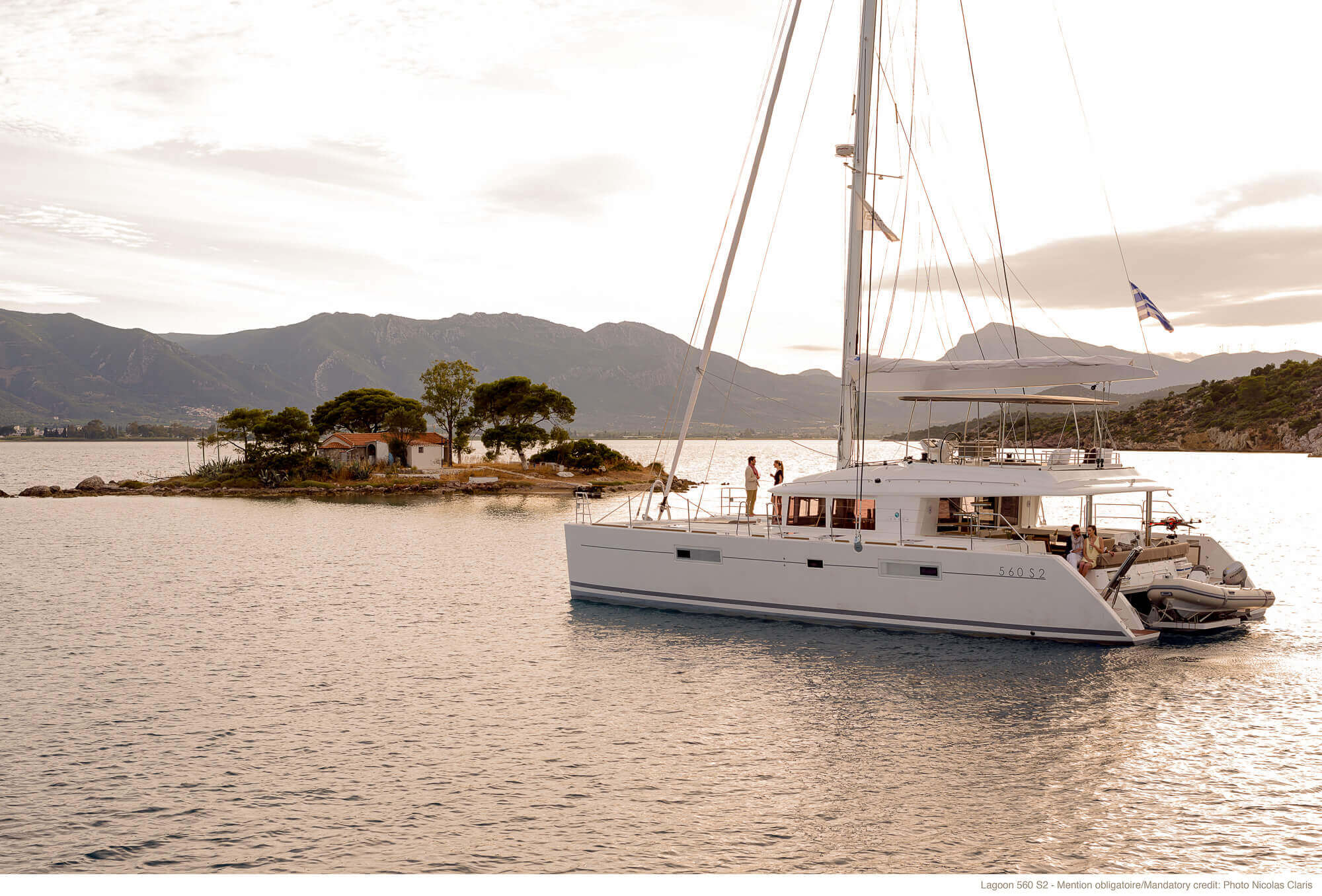 Do you prefer more powerful engines?
In this section, we will introduce you to two categories: motor yacht and motorboat.
Motor yacht works with the help of powerful engines. It has no sail, and usually, there are more crew members (captain, hostess, cook) who take care of your comfort. At the same time, it has no ponds. More luxurious motor yachts use special stabilizers (gyroscopes) while sailing to ensure comfort on board. Motor yacht's length starts from 10 to 24 meters. Super luxury motor yachts can have a length significantly exceeding 100 meters, including a heliport. However, now we no longer talk about the recreational craft, but we get to the category of a nautical yacht. Motor yachts can sail 25 or more knots without problems, which has a significant impact on their consumption. They have powerful diesel generators and can operate on the water as a small, fully independent house.
A motorboat (or speed boat) is a fast boat that mostly serves to move from a motor yacht, sailboat or catamaran to the shore. It has no cabin to stay overnight or any toilet space (in most cases). The size of the recreational motorboat ranges from 3 to 8 meters and has one or two fast motors from 50hp to 500hp. You can also use it for water sports (water skis, wakeboard or donat). There are of course special sport motorboats that have four or more motors with much higher power and provide much more experiences and fun of sailing on the sea.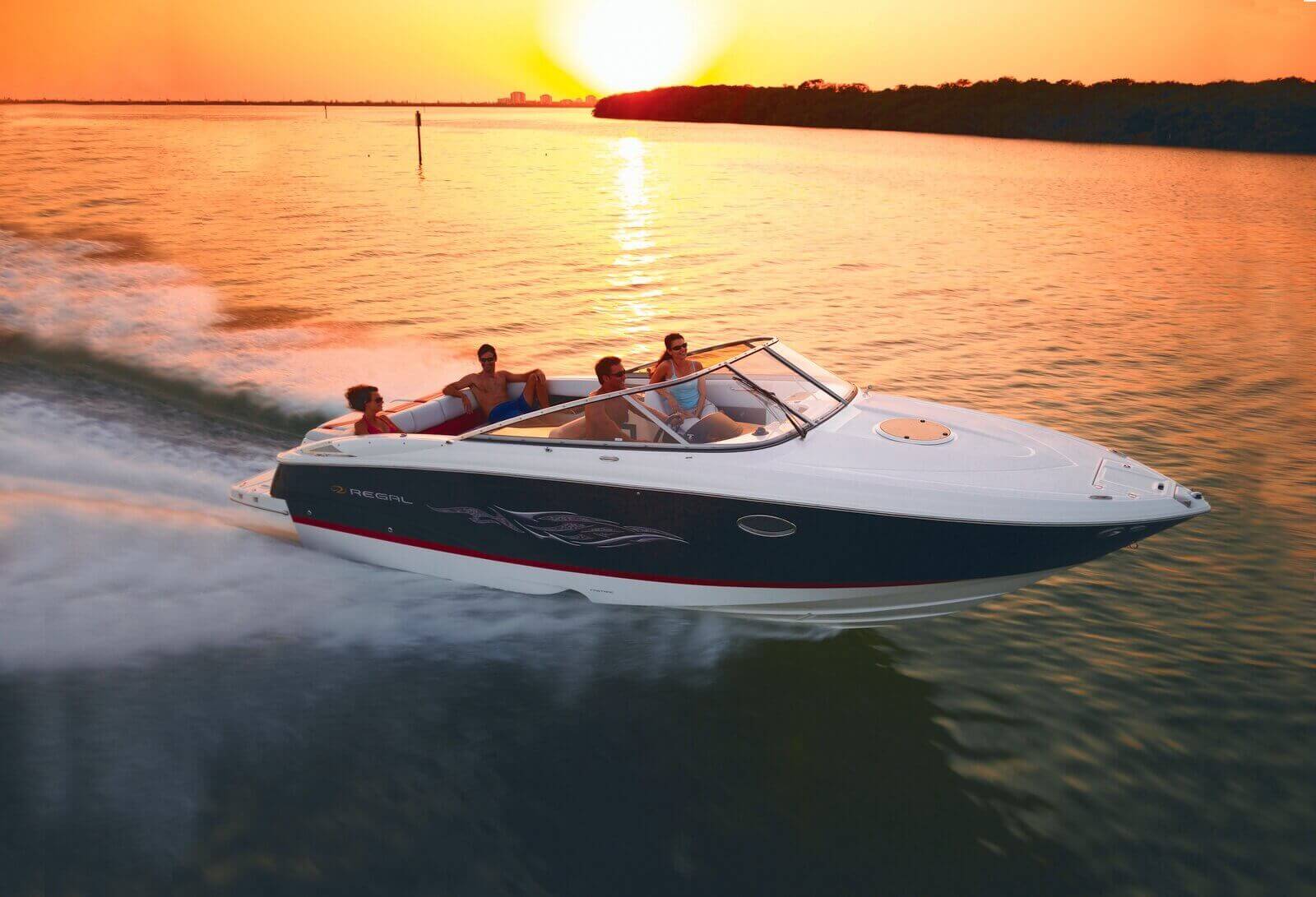 Special category of vessels
A particular type of boats on the sea are gulets. It is a larger wooden sailboat with a length of 20 to 35 meters with sails and engines (that is, according to its length, either a recreational vessel or already a nautical yacht). The crew of three to four persons (captain, hostess, cook, lifeguard) is already on board. Boats originate in Turkey and are mostly over 20 years old. However, for reasons of commercial chartering, they had undergone a complete refurbishment a few years ago. It is a combination of a sailing yacht and a motor yacht with more space, where you can enjoy the atmosphere of pirate times. In the case of the gulet, you can rent the entire boat, or each guest can rent an individual cabin. In this case, it is called the Cabin charter. During the week you can meet tourists from all over the world, who have decided to enjoy a new phenomenon – A holiday on a boat.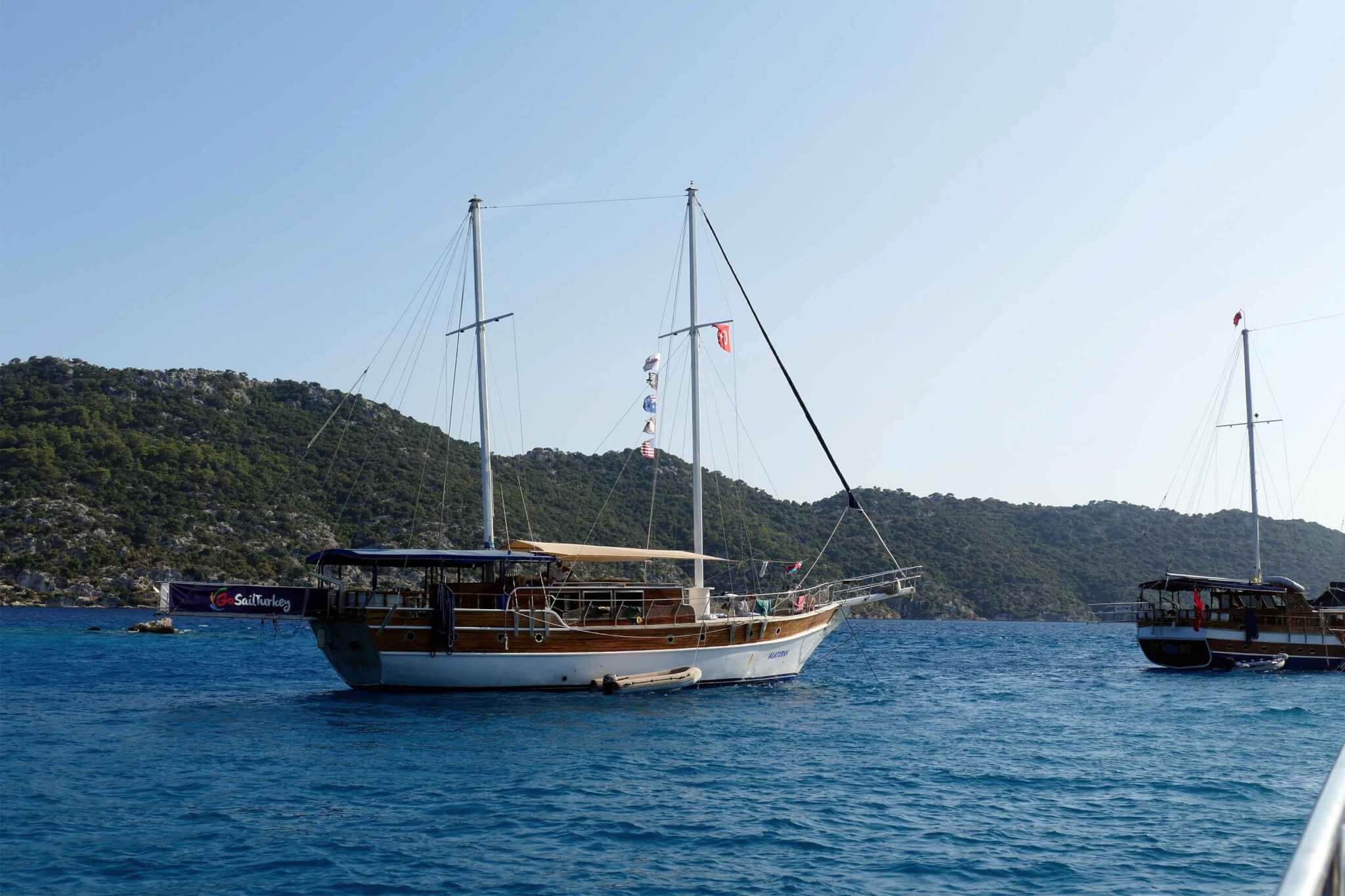 There are a lot of options, which you can choose. In our offer, you can find recreational crafts since we prefer the privacy on a boat over big and crowded yachts (so-called cruisers). Our boat charter also includes a more personal approach, more privacy, free program, and discovering holiday destinations. Click here to view our boat offer. If you would like to read more about our boats, we have written about two of them in this article.
So, have you chosen your dream boat holiday? 🙂