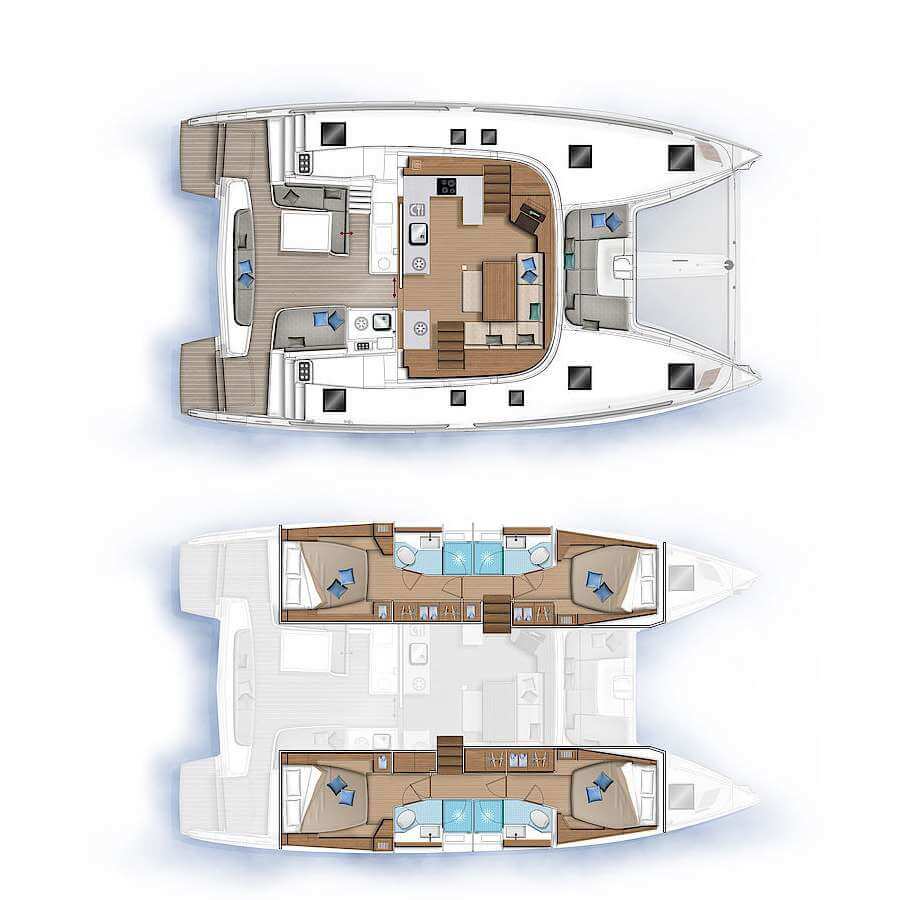 Description

Lagoon 46

Year of Production
NEW 2022
No. Cabins
4 + 1
No. Toilets
4 + 1
Max. Allowed Number of Persons
12
Main Sails
Full Batten
Draft
1,30 m
Length overall
13,99 m
Description

Lagoon 46

Max. Bridge Clearance
23,99 m
Gross Tonnage
16,600 tons
Engine
Yanmar 2×57 HP
Fuel Tank
1040 l
Water Tank
 600 l
Type of Propeller
Normal
Boat equipment – exterior:
Description

Lagoon 46

Bimini top
 
Cockpit fridge
 
Underwater lighting 4x
 
Electric halyard Winches (1)
 
Anchor winch remote control
 
Dinghy 3,4 m with 20 hp engine
 
Watermaker 100L/H 220V/12V
 
Sprayhood
 
Cockpit table
 
Full batten mainsail with lazy jack and lazy back
 
Sunbathing mattress
 
Cockpit cushions
 
B&G Zeus 3S Glass Helm ZM Display 16″
 
B&G Sensors for wind, speed, depth, temperature
 
Boat equipment – interior:
Description

Lagoon 46

Wood Saloon
 
Diesel Generator 11,2 KVA
 
Inverter and 240V / 2000VA sockets in all cabins
 
Electric automatic pumps in toilets 4x and showers
 
Individually Adjustable Air Conditioning in all Cabins
 
Individually Adjustable Heating in all Cabins
 
Ambient Led lighting in the Saloon
 
Fusion RA70N (USB/Bluetooth + AM/FM)
 
Fusion Audio – 6 loudspeakers in salon, cockpit and fly
 
Internet 4G LTE (Unlimited data) + WiFi (AC) on board
 
B&G VHF Radio
 
B&G AIS receiver
 
B&G Autopilot System + Pilot/Wireless Remote Controller
 
B&G Broadband 4G Radar
 
Queen Size Bed (4)
 
Fully equipped kitchen (wine/whisky glasses, )
 
Carafe, cutlery, dishes, pots, etc.
 
2 Fridges in Saloon
 
Automatic Ice Maker
 
Coffee Machine
 
Microwave Oven
 
Gas Oven
 
Life Vests & Harnesses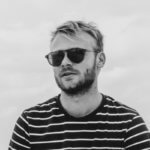 Adam Stobnicki
30 yrs.
Skipper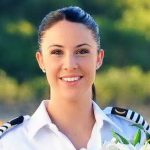 Maya Visic
32 yrs.
Hostess
Lagoon 46 is rented only with our local professional Skippers as crewed boat.
We are the owners of the boats
In our offer we have mainly the boats that we own and it is important for us to have them prepared in 100% condition not only for us and our families, but also for our clients.
We do maximum to meet all the specific requirements of our clients. The fact that we are successful with this is that our clients always like to come back to us.
The quality of our services is confirmed by many recommendations and positive reviews of satisfied clients on our website, Facebook and Tripadvisor.
We employ true professionals whose services have been verified for many years. Some of the clients are returning only because they prefer and seek a sailing just with our skippers, with whom they have established strong friendly relationships over the years.
We offer you an excellent price / service ratio. Compared to our competitors we have high-tech equipped boats with a variety of water toys. Each boat has a detailed description of the equipment that the client should thoroughly study to make it relevant to compare our boats with our competitors.
Investment in equipment and maintenance
Each boat in our offer (in the appropriate category) belong to the TOP 3 most luxurious vessels in Croatia what we are proud of. Unlike to our competitors, we regularly reinvest a large amount of money for boat maintenance and operations every year. As a result of this, even older boats looks completely new and are in perfect technical condition.
We offer you a wide offer of unique services that you will not find throughout Croatia. You can choose from a wine route, a gastronomic route, as well as a relaxing route with a certified physiotherapist. In case you want to plan your trip according to your ideas and preferences, you can find all the contacts on konobas, restaurants and wineries on our web site for free.
Those who have enjoyed a sailing in their family will definitely agree that this is one of the best vacations they ever had to experience. On our boats it is doubled thanks to the luxurious kitchen equipment, comfortable cabin and salon facilities as well as the quantity of water toys for children and adults.
We can perfectly fulfil the specific requirements of the business clientele in teambuilding as well as in the presentation of new client products and services. Besides that for demanding clientele we have a projector and tablet available on board.
Perfect comfort and relaxation
From the personal experience of our satisfied clients, it is more than certain that the time for sea waves is completely different. After a week spent on our boats, every visitor feels really as if he spent twice as much time on his vacation. Try it and see for yourself.
Every year we spend our family summer holiday in the hotels on the beach and therefore we decided to change this stereotype this time. Seven-day long stay on your catamaran featuring sails, wind, sea and sun attracted us completely and we will remember it for long time. Vacation in style on board is exclusive and more variable in all aspects as we know from past. Thank you for truly great experience.
AGNIESZKA W., Lawyer (POL)
My wife and me we usually go for historical-sightseeing trips during summer. This year we searched for Adriatic area in Dalmatia. We chose weekly sailing on your yacht as recommended by our friends. We were ultimately satisfied with this holiday. Get to know the country and history from the board likewise ancient sailors is unique experience. We truly recommend to others.
FRANZ K., Retiree (DEU)
I will not forget my first vacation in Europe. My relatives invited me for sailing on the catamaran Princess Seline in Dalmatian coast. Sunbathing on board without curious looks, 4G internet during whole week and shopping in local shops greatly complement busy nightlife in harbor towns. It was fabulous week. See you next year with my girlfriends.
SUZAN P., Student (USA)
Often we spent summer vacations in the mountains, and therefore we decided to try out something unconventional this year – sailing on catamaran. We were enchanted with the new experience as it is very unique type of tourism and more flexible in all aspects as we know from the past. Thank you for gorgeous seven-day experience.
VLADIMIR M., Consultant (UKR)
For entire life we will never forget our honeymoon weeks on your yacht! How could we forget our fantastic gaiety and all the luxury which you provided? Romance in the charming coves, at the sunset and the proximity of your loved one all the time. You can count with us for sure next time. See you at our golden wedding jubilee!
TOM & SANDRA W., Newlyweds (USA)