When we talk about Luxury sailing apartments, everybody immediately imagine unaffordable vacation on a huge Motor Yacht. However, this type of holiday on boat is now available for everyone. In recent years it has become a popular phenomenon that is being used both by young and older people. Renting a boat and sailing is no longer an unfulfilled dream, but a reality which you can also experience . What boats do we offer? And why should you sail with us? In this article, we present to you our Yachts – real luxury hotel apartments sailing on the waters of the azure blue Adriatic Sea.
Sailing yachts and catamarans which we offer, and you can sail in Croatia during your dream vacation, belong to the middle and higher categories of recreational boats. What does it mean? From over 5000 boats, this category represent less than 1% of exclusive vessels. So there are only few extraordinary boats on the Adriatic Sea that have special equipment to ensure complete privacy away from crowded places. You can be sure that nobody will disturb you during your holiday. Imagine crowded beaches where there are thousands of tourists and ask yourself whether this is your dream vacation idea. With us, you can truly enjoy unforgettable moments full of relaxation. And all this in crystal-clear azure bays, during whole week. It is up to you if you spend all your time on the boat or combine it with a visit of historic sites listed as UNESCO World Heritage Sites. Trogir, Split and Dubrovnik certainly deserve your attention. Believe us, you will be leaving with a lot of unforgettable experiences.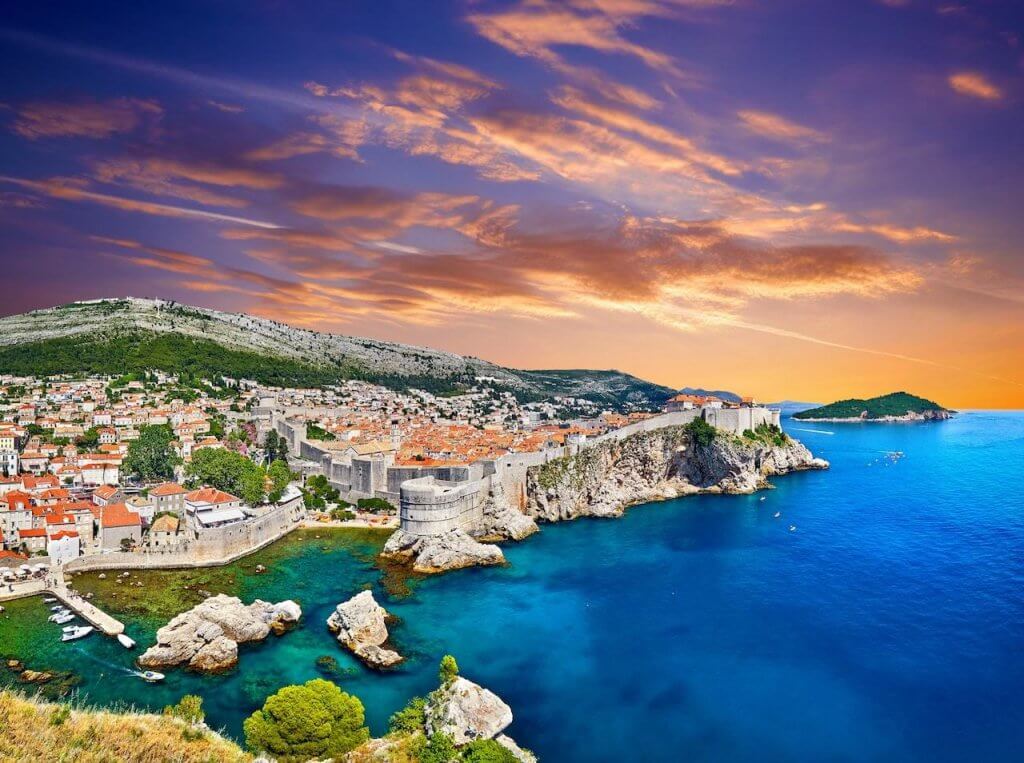 As the owners of this unique boats, we have a really special relationship to them and we also spend wonderful moments with our families on them. Therefore, we are strict in requiring suppliers to provide services of the highest quality. Our goal is that all our clients say after a week on a boat that it was one of the best vacations they ever had. It will be a pleasure for us to receive sincere feedback from you, as we have received from clients all around the world on our Facebook, Instagram and TripAdvisor.
Queen and Princess on the Adriatic Sea
Did you know that there are a real queen and princess on the Adriatic Sea? We present to you the flagship boats from our fleet. Our boats are perfectly equipped, including plenty of water toys, both for the little ones and adults and the older generation, too. Our boats provide the perfect place for the best dream vacation.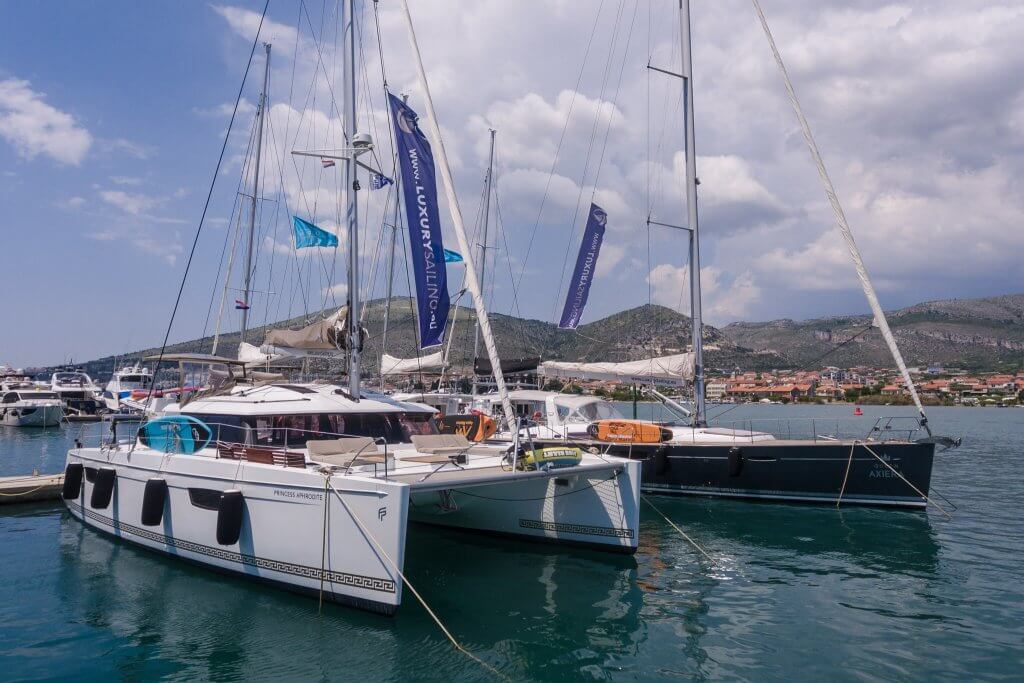 Sailing yacht Queen Axiera (Oceanis 58) is one of the most luxurious and modern yachts that sail under the Slovak flag on the Adriatic Sea. Queen Axiera Oceanis 58 is a true queen of the sea and is one of the top 3 vessels in Croatia in its length category. With her ideal shape, large sails, and very good navigation characteristics, as well as a spacious and luxuriously equipped interior and deck, it will fulfill every client's expectation. This boat is simply a queen without a compromise.
"Did you know that the boats we offer are subject to thorough weekly maintenance and we rent them in 100% condition? However, this is not a the case for every Agency."
The Queen Axiera will fulfill the dream of a sailor longing for an adventurous voyage, but also a self-indulgent who wants to sail from port to port with style and maximum comfort, having a glass of wine on the table. The spacious air-conditioned saloon and three huge cabins provides a feeling of complete privacy. It also offers comfort with everything you need to stay in busy port cities, but also in idyllic deserted azure bays. In a comfortable and pleasantly furnished interior with an elegant modern design, you will feel safe in the middle of the open sea equally as in your home.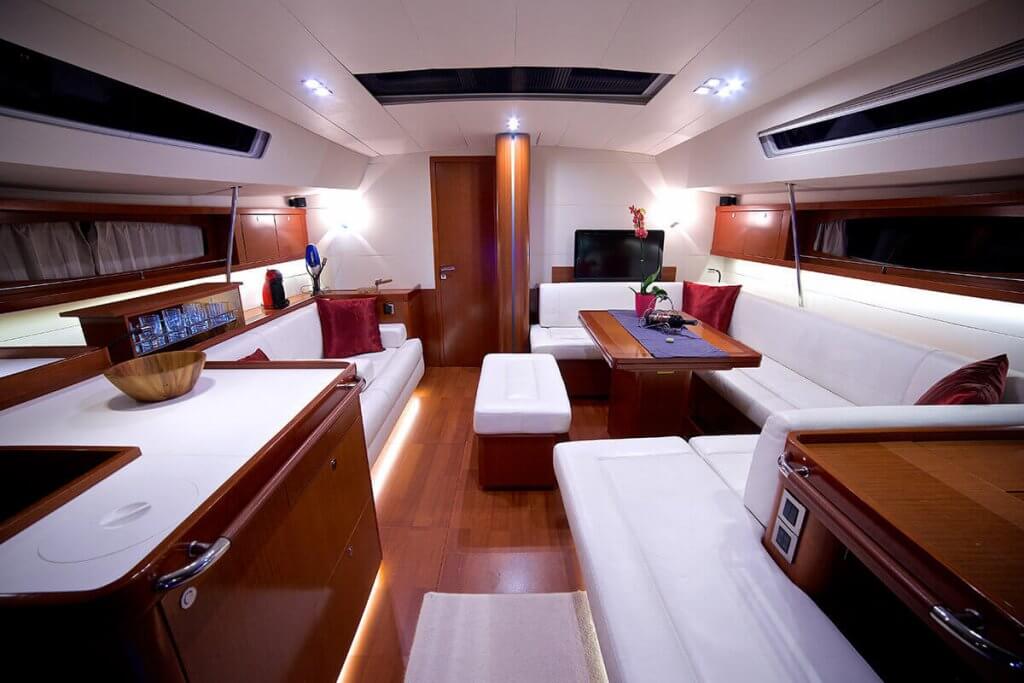 To whom is Queen Axiera intended for?
Queen Axiera is ideal for a multi-generation family, students but also young people. Its typical feature is a unique sailing in extreme tilt at 10+ knots, the comfort of electric winches and the 250m2 gennaker (note: gennaker is a large sail used when sailing downwind). It is suitable for yachtsmen who have already become tired of regattas and want just to enjoy sailing, but also for business partners who want to organize unforgettable teambuilding for their clients and employees. To bring you a feeling of exclusivity, uniqueness, and novelty, we have realized a complete interior and exterior reconstruction at the beginning of 2020.
Basic data:
The number of cabins: 3+1
The number of toilets: 3+1
The maximum number of passengers: 12
Complete parameters and equipment can be found here.
Elegant Princess on the waves of the Adriatic Sea
Princess Aphrodite (Saba 50) is the most luxurious and modern catamaran sailing under the Slovak flag on the Adriatic Sea. In his length category, it is one of the top 3 best catamarans in Croatia. If we compared it to the hotel terminology, we would be talking about a 5+ star Hotel sailing on the sea.
This elegant beauty, with a precisely sophisticated interior and exterior space, offers plenty of space to relax. This extraordinary catamaran has been designed to provide higher comfort for the entire crew without compromises, whether it is anchored in port, azure bay or sailing on the sea.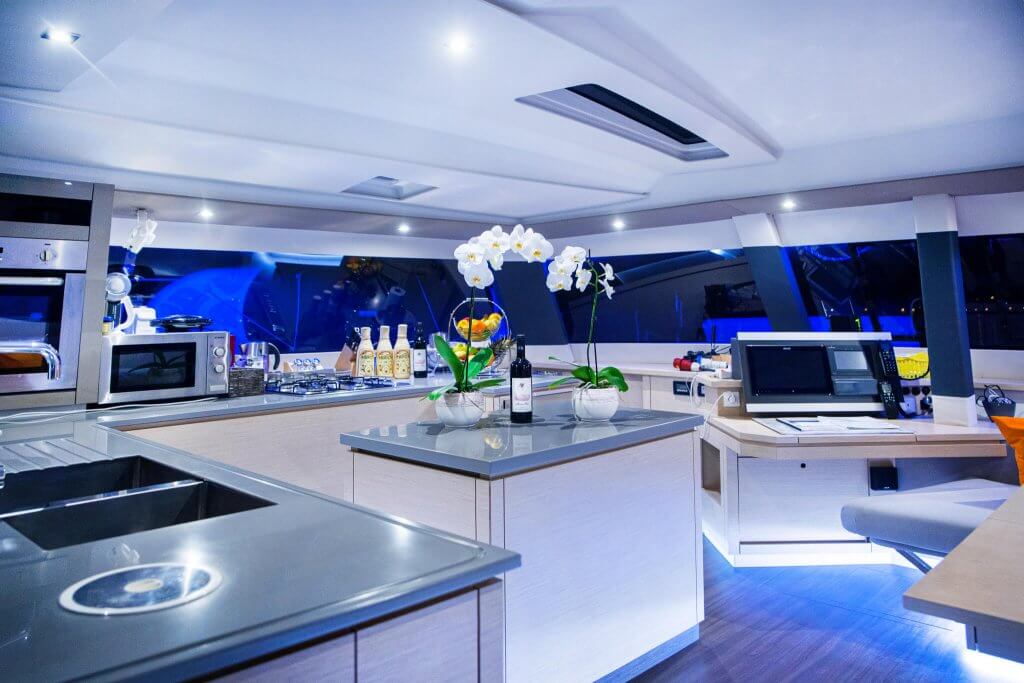 To whom is Princess Aphrodite intended for?
The boat's deck was designed to provide everyone with privacy in the saloon, front and back deck, as well as the upper sun deck. Princess Aphrodite Saba 50 is ideal for large multi-generation families, students and young people who want to experience a unique holiday. It is ideal for business partners who want to organize unusual teambuilding for clients or employees, too. To make the boat look as new at the beginning of the 2020 season, it has undergone a complete service and interior and exterior renewal.
Basic data:
The number of cabins: 6+1
The number of toilets: 6
The maximum number of passengers: 12
Complete parameters and equipment can be found here.
A holiday on a boat is an experience you will remember forever. It offers adventure, adrenaline, but also time to relax and enjoy. More about boat experiences and activities you can find in this article. However, remember to select your dream boat in advance. Choose it based on the Agency and its references, especially its approach to customers. For example, when you talk to a boat owner who uses a boat for family vacation, you can be sure that the boat will be available in excellent conditions. And this is also valid for us 🙂 Do not hesitate and book your boat now. Free dates for the new season are being sold out fast.