Sailing, as a way of spending a holiday, is becoming increasingly popular. It is a great opportunity not only for a good rest but also to get to know the country and the coast differently than in regular holiday destinations. Yachts, sailboats, or catamarans will become your luxury sailing holiday apartments. Adventure, authentic land, the sea, the sun, or empty beaches in the bays are just a few of what a sailing holiday has to offer.
From our boat offer can customers choose sailboats or catamarans. Of course, before you go on a boat vacation, you should know how to choose your dream vacation boat correctly. How to choose the right and reliable boat? Find out in our older article.
Security deposit or insurance of security deposit?
One of the most important things to keep in mind when choosing a boat is that during the sailing, anything can happen at any time. In essence, from damaged hull to destroyed engine or propellers, burned battery, damaged furniture, broken glass, or lost water toys. When our professional captain is on the boat with you, 90% of those cases do not concern you, as the captain is responsible for any damage of the vessel. In case you are the captain, you don't have to by worry. Even in such situations, there is a simple solution. The security deposit you pay when you rent the boat, is essentially a participation on the boat insurance. It is the maximal amount by which you are involved in the event of damage to the vessel (except in case of gross negligence – in this case, we recommend to take Yacht-Pool skipper liability insurance). However, in the case of a deposit, after returning the vessel, you may find that the boat is damaged, which may not have been caused directly by you, but you will still have to pay a charter company for the damage.
The second option for you is to pay insurance of security deposit at our partner company Yacht-Pool so that you don't lose your money unnecessarily. In the case of damage to a chartered vessel, the boat owner shall be entitled to a security deposit for the remediation of the damage. This option is often preferred by captains, who are sure that they'll damage something during the sailing week and don't want to lose more money than necessary. The price of the insurance ranges from 220 EUR to 420 EUR, wherein the case of no insured event, the insurance company will refund you 100 EUR. It is an appealing solution and product for clients, but a disadvantageous solution for charter companies and boat owners, because it subsequently increases their boat insurance for the next year due to loss of insurance bonus.
Did you know that we provide regular services to our boats and most of them we offer with a professional captain? Therefore, it can't happen that we give you a boat with a hidden or intentional defect. You would not believe it, but it is a 'common practice' of some charter companies to pull money out of people for mistakes they didn't cause. What is even sadder is that they don't correct the defect. Then during all the 20 weeks long season, they charge the clients for the same mistake.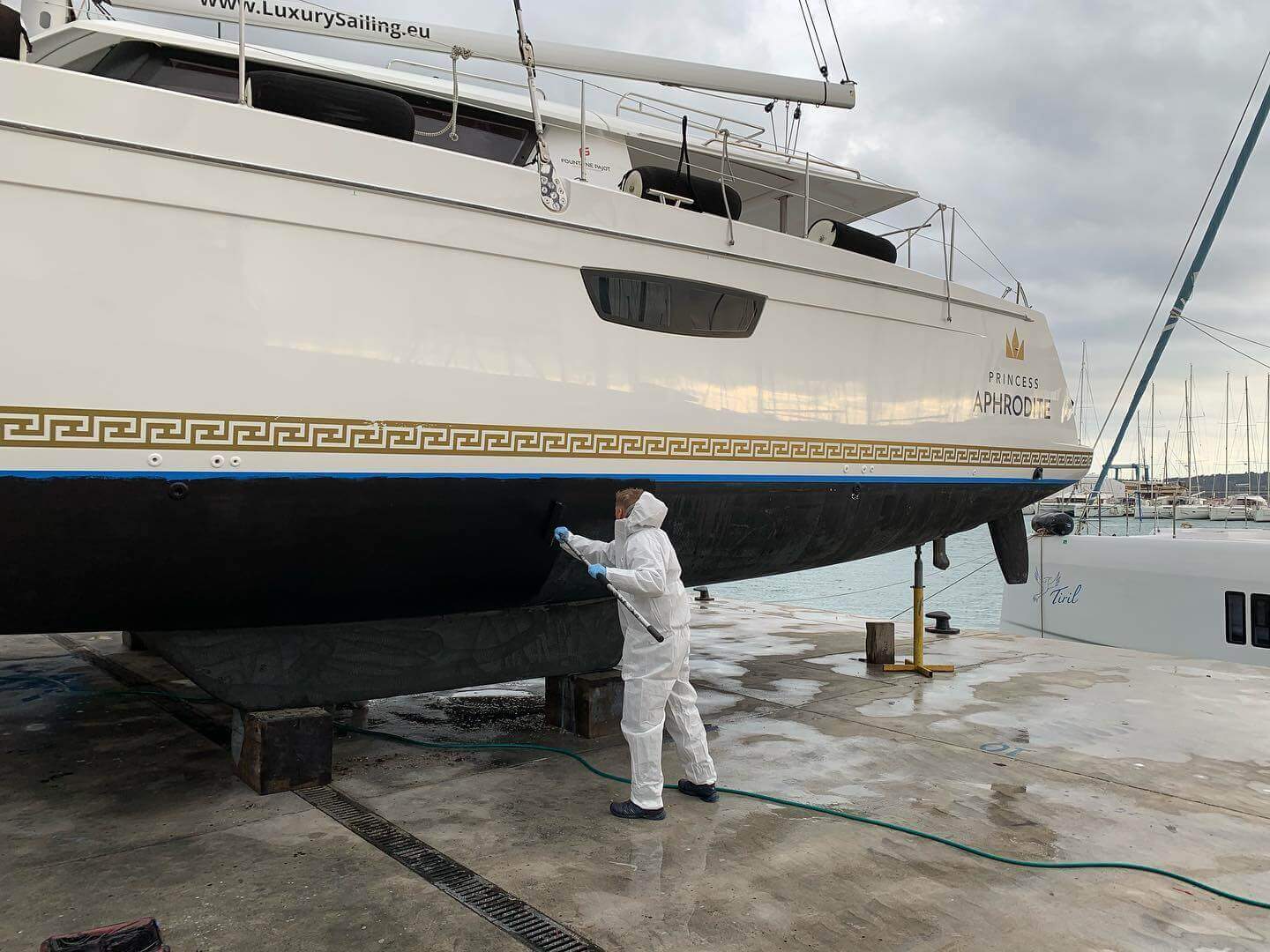 Regular boat service before the season. Photo: luxurysailing.eu
Boat insurance with Yacht-Pool International
We have been cooperating with Yacht-Pool International on boat insurance for a long time. This company provides a wide range of services, including: 
Yacht-Pool International also has the greatest experience in charter insurance. The significant advantage of this company is that the insurance is valid all year, and you can realize it online. All types of insurance (except cancelation insurance, which must be taken out together with the charter contract) you can take out at any time before the cruise, and the insurance is valid without territorial limitation. Yacht-Pool International insures our boats. Except for the basic compulsory liability insurance, we also have extended accident insurance (in case of death, immobility, provision of a replacement vessel), and the possibility of sailing throughout all Mediterranean.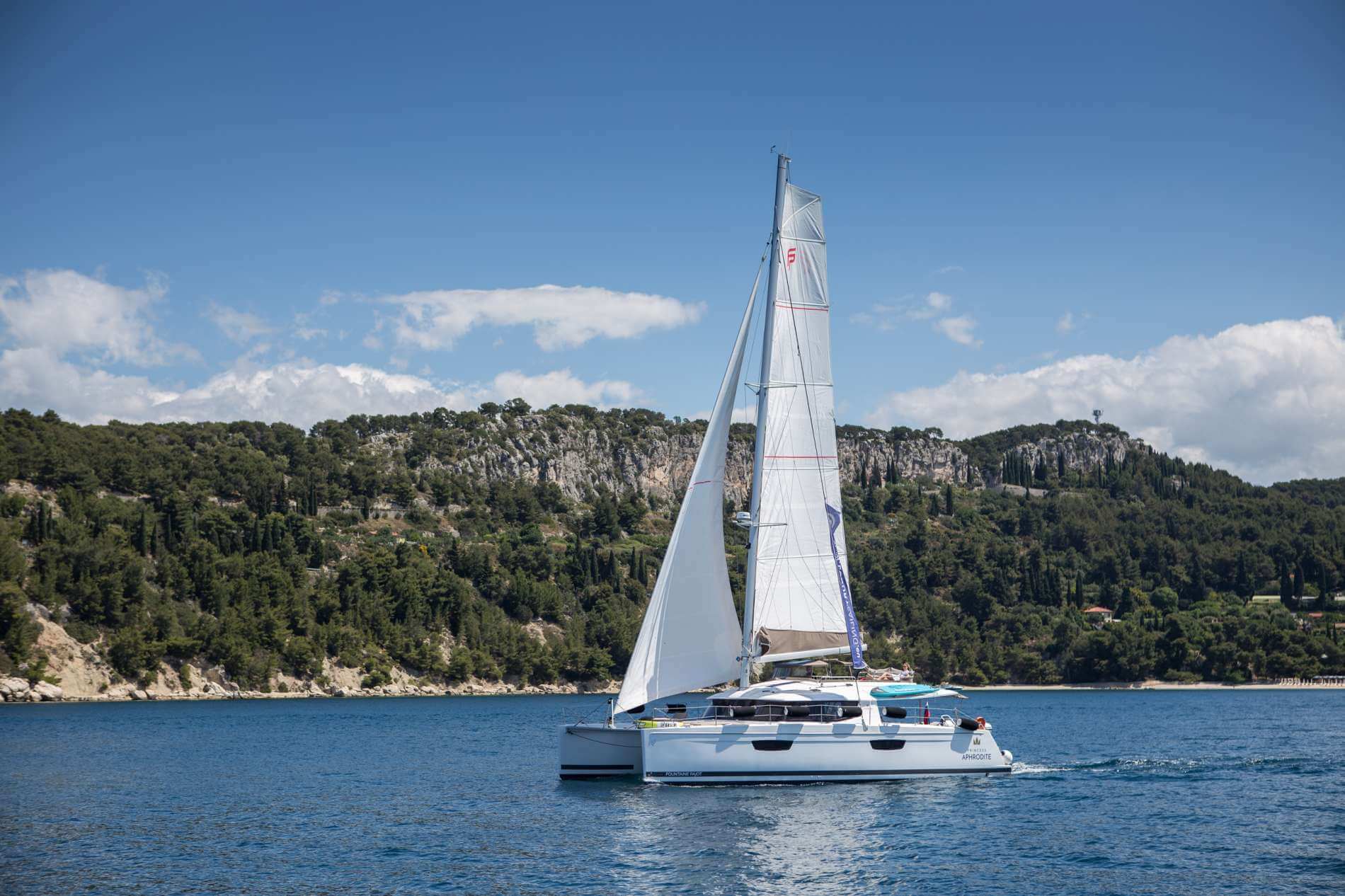 Reliable insurance without problems
Yacht-Pool International is a leader in skipper and charter insurance. The company has been operating for more than 40 years and is continuously subject to innovation so that the insurance conditions meet current market requirements and fill gaps in insurance coverage. Yachtsmen created Yacht-Pool International for yachtsmen. The company was created as a group of skippers, and the team consists of experts from many sectors, whether insurance, shipbuilding, boat charter, and also renowned lawyers.
Yacht-Pool International also offers a guarantee of balance between clients and a charter company on a contractual basis called FAIRCharter 19 Contract. Founder of the company, Dr. Friedrich Schöchl developed a model for international cooperation. This model is available to charter companies as well as clients themselves in eight different languages so that legal relations are clear to all parties. The FAIRCharter 19 Contract provides legal clarity and legal certainty for all proceedings and parties. At the same time, you can read on the web which charter companies offer clients such a contractual framework. As a matter of principle, we do not recommend clients renting a vessel from a company that uses its unbalanced contracts, full of disadvantageous provisions against clients who cannot subsequently defend themselves.  However, in the charter business, the golden rule is that if the weather is beautiful and nothing happens to the ship, the client has nothing to worry about. At the moment when something happens, and the client signs a disadvantageous contract to the charter company or is not insured, it is unfortunately too late.
Luxury Sailing uses FAIRCharter 19 Contract, so with us, you are absolutely safe during your sailing week holiday on the sea.
Questions and answers
Vladimír Oravec, the owner of Luxury Sailing, answered the questions about how this insurance cooperation works.
How does the cooperation between Luxury Sailing and Yacht-Pool International work?
'Our task is to explain to clients the insurance possibilities (individual products), benefits if the client is insured, and the risks if not. If the client decides to take out the insurance, he will sign a contract directly with Yacht-Pool International with our help.'
What is needed from the client if he wants to take out the insurance?
'Necessary information about the client, the product he/she wants to choose, signature, and payment. The insurance is valid for one year almost all over the world, depending on the selected product.' 
What is the price of insurance, and what does it depend on?
'It depends on the product itself. In the case of deposit insurance, it depends on the size and price of the yacht. Cancellation insurance is calculated individually by Yacht-Pool International for each client and may rise to higher amounts during the high season, which represents about 4.9% of the rental price. On the other hand, the client minimizes the financial loss if he can't go on the cruise.'
If I was eligible for an insurance claim, how long does it take to get the money?
'It depends on the type of insured event, the amount of the insured event, the kind of insurance you have taken out, and the type of policy you are claiming. According to our experience, it is usually from 14 days to 6 months. It also depends on what documents the insurance company will require and how quickly the charter company can provide you with them. Therefore, as mentioned before, it is very important to choose a serious charter company as well as a serious insurance company. We have the experience where the charter company refused to provide the client with documents for an insured event. After taking over the communication with the charter company by Zuzana Ballaschová, the director of Yacht-Pool s.r.o., offices for Slovakia and the Czech Republic, she managed to solve the payment of the insurance within two weeks.'
If we sail with your company, is it possible to take out the insurance by another company as Yacht Pool International?
'The decision on which insurance company to choose and whether to insure is up to the client. As is mentioned before, if the weather is beautiful, and nothing happens to anyone, it doesn't matter. But when something happens, it is necessary to bear in mind all possible consequences.'
If we're a group that hasn't cruised yet but has a captain, would you recommend us to take out the insurance?
'In this case, based on my experience, standard travel insurance is enough for you. If you don't have deposit insurance and damage the interior or lose some water toys, you only risk that the charter company will take some amount from your deposit. During the last five years, we have taken the money from the deposit only two times of 100 EUR and 700 EUR when the client drowned paddles and burned sitting cushions with cigarettes.'
What is the chance that your boats will experience a breakdown or damage that we did not directly cause?
'In the case of a breakdown, damage, or loss that the client has not demonstrably caused, there is nothing to worry about. On the other hand, I have to say that we have had only decent and polite clients, unlike my friends in other charter companies, where for example, clients paid deposit insurance and burned teak deck with cigarettes, damaged interior, and exterior. In a week, they did damage of 20 000 EUR. In this case, it is already vandalism, and of course, no insurance will cover it.'
A boat vacation is a great way to take a rest and relax. It offers many unforgettable and original experiences. To enjoy your vacation fully and without any problems, it's essential not to forget the vessel to insurance that can be taken out by you (the charter company should have its insurance by law) and also the choice of a charter company that provides FAIRCharter 19 Contract. Like this, you can avoid having to pay for damages that you didn't cause. Sign an insurance contract before the holiday is a guarantee that you don't have to worry about unpleasant surprises when you return the boat. Prepare insurance in advance and then enjoy your dream boat vacation.